We love our special human summertime treats – how about some home made goodies for your best furry friends!? These fun and simple recipes will keep your dog happy and cool – and if you'd like, don't hesitate to get the kids involved in making them! Summertime fun for everyone!
[Recipes from
doggydessertchef.com
]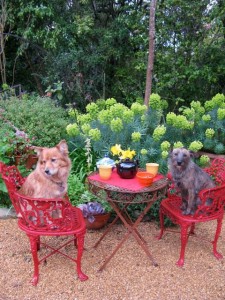 Frozen Peanut Butter Dessert Ring
This is a versatile treat, you could really add whatever dog friendly ingredients you'd like. Try other variations like blueberries, watermelon … Just make sure to use dog-healthy ingredients – NO GRAPES!
Ingredients:
Water
1/2 cup peanut butter
1 cup chopped fruit (I used strawberries)
2 tablespoons flax seeds
Directions:
Blend peanut butter or water and pour into a bundt or cake pan
Add chopped fruit and flax seeds
Allow to freeze for 4-6 hours before placing in the grass for fun for your pups!
Sweet Potato Strawberry Chicken Cookies for dogs
Ingredients:
1 sweet potato, cooked and mashed
1 chicken breast, cooked and chopped
1/2 cup chopped strawberries
1/2 tablespoon dried parsley
1 cup brown rice flour
Water – up to 1/4 cup
Directions:
1. Preheat oven to 350 degrees F and line a baking sheet with parchment paper or silicone baking mat
2. In a large bowl mix all of the ingredients, except the water, until well combined. If needed add water until dough comes together.
3. Once dough is well mixed, roll into 1/2 inch balls and place 1 inch apart on the baking sheet. Press down to slightly flatten.
Bake for 10 minutes, open the oven door slightly and allow the biscuits to cool in the oven.
Makes 2-3 dozen rounds.
PUPsicles!
Ingredients:
2 ripe bananas
24-32 oz plain yogurt
1 cup peanut butter
2 tablespoons honey
1/4 cup water
Directions:
1. Blend or mix all ingredients together until you have a consistent texture throughout.
2. Pour mixture into ice cube trays, cupcake tins, Popsicle molds or any small sized container that will yield a treat appropriately sized for your dog.
3. Garnish the top (optional) dog biscuits, grated cheese, fruits or veggies all work great and look cute too!
4. Freeze overnight and serve!
You can also substitute the water with chicken broth, or the yogurt with baby food like sweet potato or pumpkin! Get creative. 🙂