Tracy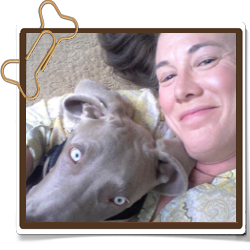 Tracy grew up on Galveston Island. She has been in Santa Barbara for a year now and loves how it has the small town feel like the Island she grew up on.
She comes from family of pet lovers. When her entire family gets together for the holidays everyone brings their fur babies and at Christmas each pet gets their own stocking.
Tracy has been involved in fund raising for the SPCA, as well as foster care, and rescuing. She is pictured with Sprocket a Waimaraner that she and her family fostered for 6 months. She currently owns a chatting 2 year old Siamese that she rescued from a shelter in northern California. When she is not walking dogs and playing with cats for The Pet's Pal she enjoys hiking, yoga, travel, festivals and even rides a unicycle.